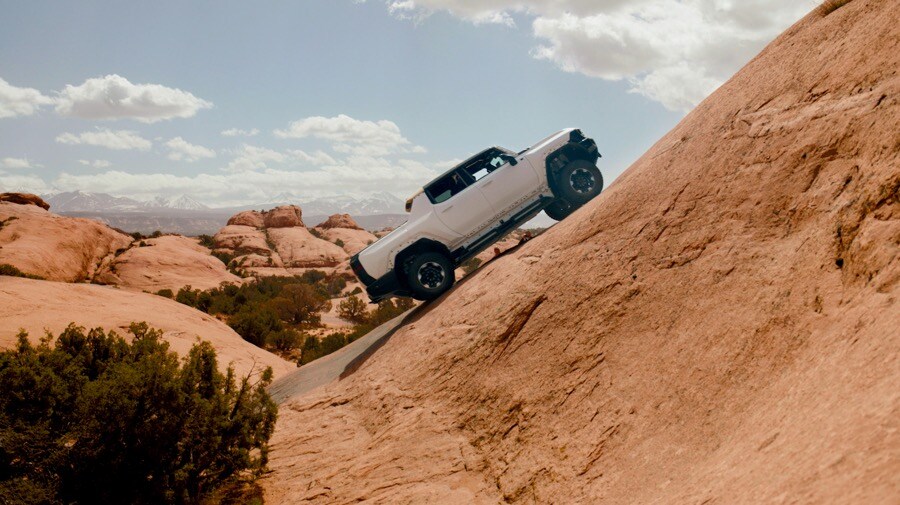 The GMC HUMMER EV Pickup is a feast of technology that combines the Ultium battery-electric driveline with groundbreaking off-road capability.
To see how both engineering breakthroughs can co-exist together, you have to test it somewhere that nature has created to demonstrate its capabilities to the fullest.
That place is Moab in Utah. A place where off-road enthusiasts test their own limits with their vehicles.
GMC put the HUMMER EV Pickup Truck onto the rocks and canyons of Southern Utah. They wanted to validate that all of the off-road capabilities work in these extreme conditions. They tested the Adaptive Air Suspension hardware, Extract Mode, Terrain Mode, One-Pedal Driving control, e4WD and torque distribution, eLockers, stability control, CrabWalk and more.
GMC's engineers tested these capability features towards benchmarking its abilities. For example, they tested the GMC HUMMER EV's Drive Mode Control to see whether the Terrain Mode can work with the One-Pedal Driving control in any situation. One-Pedal Driving control enables the driver to use only the accelerator pedal to accelerate and brake, while managing maneuvers through rough terrain and extreme driving conditions.
Extract Mode enables the Adaptive Air Suspension to raise the height of the HUMMER EV by six inches to manage uneven roads and trails – including going over boulders.
The conditions and terrain at Moab go beyond what you will put your GMC HUMMER EV Pickup Truck through. You can visualize how it will perform in our extreme conditions from along the Rio Grande River up into the West Texas and Oklahoma plains and into the Hill Country. Then, you can drive your GMC HUMMER EV Pickup Truck in the Metroplex's freeways and tollways like a pro.
This fall, the GMC HUMMER EV pickup truck will arrive at Ewing Buick GMC of Plano. Have you reserved one yet? If not, contact us and we can assist you to attain your GMC HUMMER EV Pickup Truck and SUV when they arrive at our dealership.
When you take delivery of one, the world is yours!