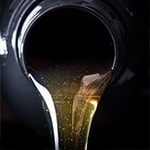 The more that you know about your vehicle can help you maintain its condition and lifespan. If you want to know the difference between synthetic oil and conventional oil, we can be of assistance at Ewing Buick GMC.
Synthetic oil is usually made of distilled crude oil, but it an be made from a wide range of materials. Many vehicle owners choose synthetic oil over conventional oil because synthetic oil boosts protection and overall performance. Synthetic oils have more chemical stability and are less likely to oxidize. Furthermore, synthetic oil has better viscosity than conventional oil, which means synthetic oil flows better in cold temperatures.
If you use synthetic oil, you'll probably need to have your engine's oil changed every 10,000 to 15,000 miles. However, it's best to check your owner's manual. If you're a low mileage driver, your vehicle won't need oil changes as frequently because your engine isn't exposed to high temperatures very often.